Snoop Dogg, a hip-hop sensation, is popularly known for his Raps and songs. However, lately, this professional rapper has been making headlines for his inclination toward emerging technology such as Metaverse, Web 3.0 and NFTs. Snoop Dogg, 50 years old, has a rich and extensive career as a songwriter, rapper, and media personality. He is now gaining fame through collaboration with metaverse projects and bringing his exclusive raps and songs for metaverse uses. Now, if you wonder what metaverse is Snoop Dogg in, you have landed in the right place. Let's learn more about Snoop Dogg's activities in the Metaverse and NFT segments.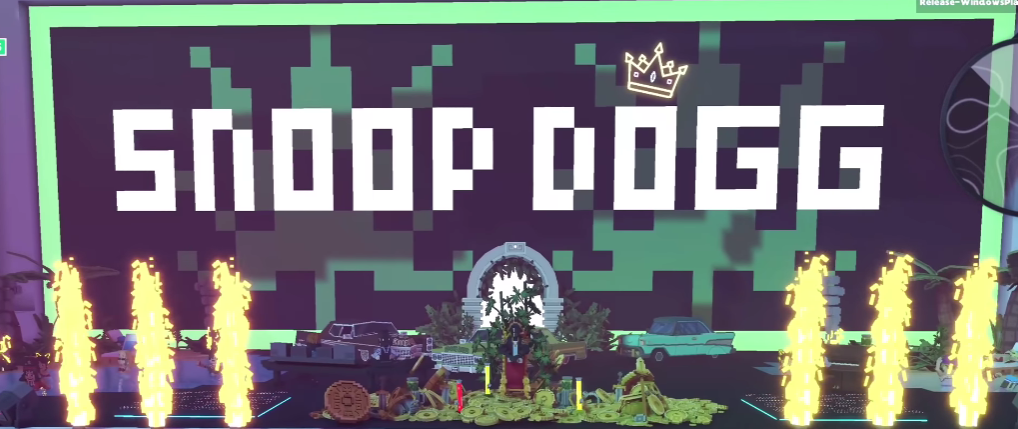 Snoop Dogg Enters into The Sandbox Metaverse
Snoop Dogg has been an early collaborator with the popular Sandbox metaverse, a pixelated virtual land with unending possibilities. With over 2 million users, the Sandbox Metaverse is one of the leading and fastest growing decentralized metaverse built on the Ethereum blockchain.
It invites content creators, gamers, and players to explore and enjoy its virtual world, create games and digital assets or shape their world inside this metaverse. Sandbox announced the entry of Snoop Dogg in the metaverse through a video featuring all things Snoop Dogg, from classic cars to crazy parties and concerts crafted in the Sandbox metaverse version.
The announcement was followed by the launch of Snoopverse, a Snoop Dogg-themed exclusive virtual space inside the Sandbox metaverse.
Snoopverse : An Exclusive Snoop Dogg's Metaverse
The Sandbox has developed a specific center for people who would like to meet and participate in the live concert of Snoop Dogg and named it Snoopverse. This is a major attraction point of The Sandbox virtual ecosystem and is pretty popular among rap lovers. It allows users to take part in activities, dance in the live concert, and explore this exclusive space.

Snoopverse access is not available for free users. It's limited only to users who own Snoopverse Early access pass. This pass allows users to access Snoopverse, exclusive Snoop Dogg NFT drops, doggies drop, and SAND rewards in Snoopverse play to earn games. Snoopverse Eary Access Pass is available to buy from The sandbox marketplace at 525 SAND, roughly 1,380 USD. 
Along with Snooverse's early access pass, users can also buy Snoop Private Party Pass to get invited to Snoop's private party. This exclusive pass costs 0.31 ETH and is available at the OpenSea NFT marketplace. Snoop's private party pass owners can access Snoop's Metaverse concert, Cozomo Art Gallery opening, etc.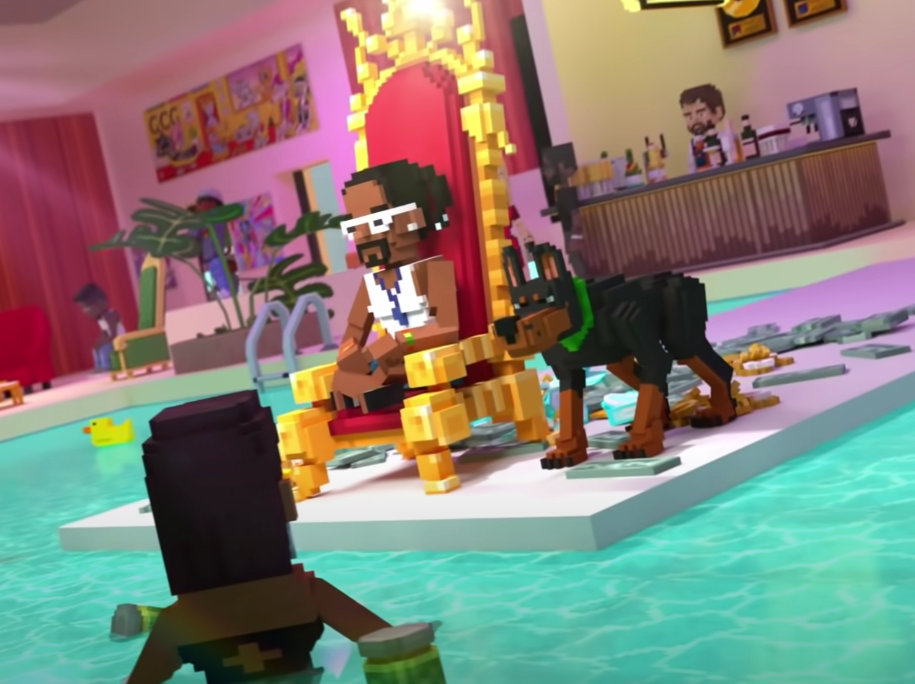 Snoop Dogg recently also launched a music video entirely shot in the Snoopverse featuring himself. This music video is named 'House I Built.'
The 3 minutes music video starts with a pixelated, Sandbox Metaverse versioned of Snoop Dogg sitting on a throne and talking about the SAND token, the native currency of the Sandbox ecosystem, with someone on the phone. The music video takes a tour of the entire Snoopverse from virtual glamour and lives concert to money bath.
Snoop Dogg's collaboration with MOBLAND
Snoop Dogg has already been actively working in the metaverse, and web 3.0 segment and his metaverse collaborations are growing. Lately, he collaborated with MOBLAND, a mafia-themed metaverse project.
This partnership of Snoop Dogg will bring a digital weed farm inside MOBLAND metaverse. Along with digital week NFTs, this metaverse will bring exclusive content from Snoop Dogg's son Champ Medici.
Snoop Dogg NFTs
Snoop Dogg's NFT is among the artist who made a hefty amount during the NFT gold rush. Snoop Dogg has dived into this segment and has already launched quite an independent NFT collection. The popular rapper with a whopping net worth of $150 million has sold one of his NFT named 'Decentral eyes Dogg' for $750,000

Since its earliest days, the legendary rapper has been an ardent supporter of blockchain technology and cryptocurrencies. In September last year, he disclosed that he collected more than USD 17 million worth of NFTs under the pseudonym name Cozomo de' Medici.
Snoop Dogg has recently announced his plans to make the Death Row Records into an NFT label after acquiring this label's ownership. According to audio posted on the social site Clubhouse, he said:
We will be putting out artists through the metaverse and a whole 'another chain of music.
---
Frequently asked questions
What metaverse is Snoop Dogg in?
Snoop Dogg is in the Snoopverse, an exclusive virtual space inside The Sandbox Metaverse.
What are Snoop Dogg Decentraland coordinates?
Snoop Dogg is not in the Decentraland metaverse. He collaborated with the Sandbox metaverse and built an exotic virtual place named 'Snoopverse.'