The Sandbox is a popular name in the Play to Earn (P2E) Gaming world and one of the leading metaverse projects. The Sandbox is revolutionizing the gaming landscape with its unique concept of rewarding the player and offering complete ownership of the in-game items they have earned along with all required tools to build a game in the Metaverse. SAND, the native token of The Sandbox Metaverse, has gained traction with nearly 1529% growth within 3 months in 2021. The SAND token price skyrocketed from $0.5 to $8.5. The price was gradually declined after the crash in Bitcoin price and currently trading between $2 -and $3. If you are also want to catch the Metaverse bandwagon and wondering how to invest in the Sandbox metaverse, we have got you covered.
The Sandbox Metaverse: A Revolution in Gaming
The Sandbox gaming metaverse is built on Ethereum Blockchain and secured by the energy-efficient proof of stake mechanism. Although Sandbox was initially launched back in 2011 and used to offer mobile and PC games, the company gained fame with its play to earn metaverse launch. Players who participate in games available in The Sandbox metaverse can claim complete ownership of the earned items and sell them in the Sandbox marketplace.
Furthermore, This pixelated Metaverse is entirely decentralized. In other words, users who hold or stake SAND tokens can dictate the governing rules and vote on any important decision pertaining to any change in the Sandbox Metaverse.  The Sandbox is most popular blockchain based metaverse among social media users as per OAX.

Ways to Invest in Sandbox Metaverse
The Sandbox metaverse users increased to 2 million with its much-awaited Alpha Season 2 Launch, and players are eagerly waiting for its Alpha Season 3 launch. With a growing userbase and popularity, the Sandbox Metaverse is expected to grow immensely in the near future, and investment at an early stage could be fruitful in the long term. There are 2 ways to invest in the Sandbox Metaverse. You can invest in its native token SAND or acquire LAND in this Metaverse. We have covered both parts in detail.

How to Buy SAND token?
SAND is an ERC-20 token and utility and governance token of The Sandbox gaming metaverse with a maximum supply of 3 billion SAND. It can be used to buy and sell digital assets on the Sandbox ecosystem. Furthermore, SAND holders could vote on any update in the Sandbox metaverse through DAO.
The SAND token is available on popular decentralized exchange Uniswap and the world's largest cryptocurrency exchange Binance. Gate.io is another source to acquire this token.
Steps to buying SAND token on Uniswap
Because Uniswap is a decentralized exchange, users can only buy/exchange SAND tokens for any other cryptocurrency like Ethereum. It is a prerequisite to have any cryptocurrency in a blockchain wallet to buy SAND on the Uniswap exchange.
Step 1. Head to Uniswap Exchange, and click on the 'Launch' button at the top right corner. It will take you to the below page.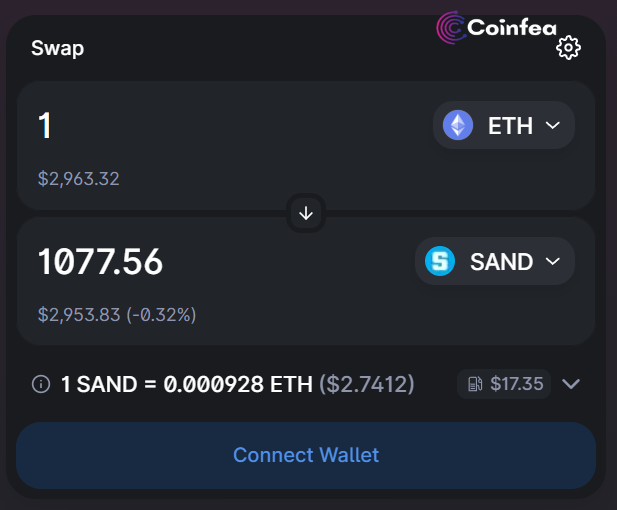 On this page, click on 'Select token' and select SAND. You can enter the number of SAND you want to exchange with other cryptocurrencies and click on 'SWAP.'
That's it; SAND tokens will be transferred to your connected blockchain wallet.
Steps to buying SAND token on Binance
Launch Binance website and Click on 'Buy Crypto' at the top left corner. You will be presented with a few payment options such as a 'Credit/Debit Card, P2P, Bank Deposit, and Third-Party Payment.
Please note these payment options could vary according to country. Credit/Debit card options are available in most countries, and we'll use this option to explain the process. You can opt for any payment method as per convenience.
Click on 'Credit/Debit Card, and the below page will open on your screen.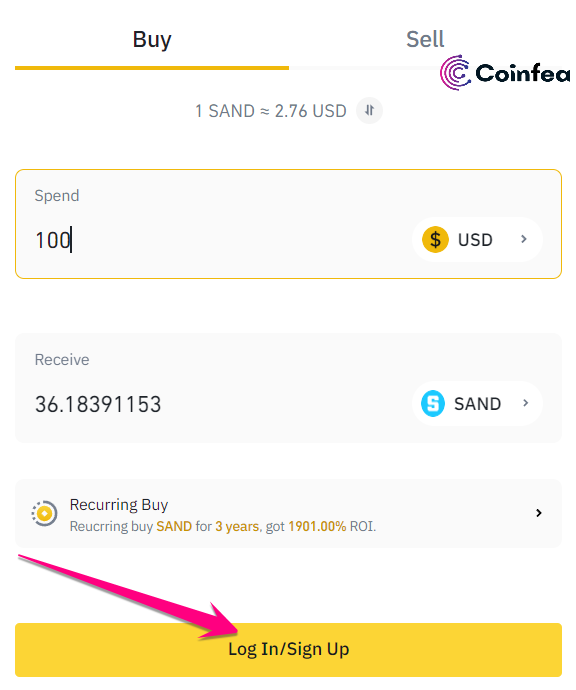 Enter the amount of USD or SAND token you want to buy and click on 'Buy.' The above 'Login/Sign up option will turn on Buy once you login to your account, or if you do not have a Binance account, you can sign up using an email id and proceed with the purchase.
If you wish to buy SAND with fiat currency, you can opt for Binance, and if you want to buy a SANd token with a cryptocurrency, you should head to Uniswap.
Steps to buying LAND in the Sandbox Metaverse
The Sandbox metaverse is developed with digital pieces named 'LAND.' Users or game developers, or anyone who wants to own a place in The Sandbox ecosystem has to buy LAND. It's a unique ERC-721 non-fungible token (NFT) built on top of the Ethereum blockchain. Just like real estate, you will be the owner of a tiny place inside the Sandbox metaverse with the purchase of LAND. LAND owners could use it to build anything from a game home, host events, or place an advertisement. Moreover, users could combine multiple LANDs to create an Estate. Considering the outrageous price increase of virtual properties in the metaverse, investing in a LAND in the Sandbox metaverse could bring tremendous wealth in near future.

LAND owners could earn rewards by charging players who visit their LAND or player their games. Users can also rent their LAND and use it to host events. Additionally, users can sell their LAND for a higher price.
Steps to buying LAND in The Sandbox Metaverse
Launch The Sandbox metaverse, and click on 'Buy LAND.'
You will be redirected to the OpenSea NFT marketplace and choose a piece of LAND you want to buy. You can use a blockchain wallet such as Metamask to directly transact LAND from the OpenSea.

Check out the 'MAP' option on the Sandbox homepage to see the LAND location available to buy. Also, you can reach out to LAND owners and send you an offer.
Buy NFT at The Sandbox Marketplace
The Sandbox has partnered with many well-known personalities and brands to offer an exclusive range of NFTs. Snoop Dogg was one of the popular collaborators and contributors to the Sandbox Metaverse, among many others. The Sandbox has developed a unique metaverse inside The Sandbox ecosystem named 'Snoopverse.' Users can find exclusive games, events, and NFTs Avatars related to Snoop Dogg in this arena.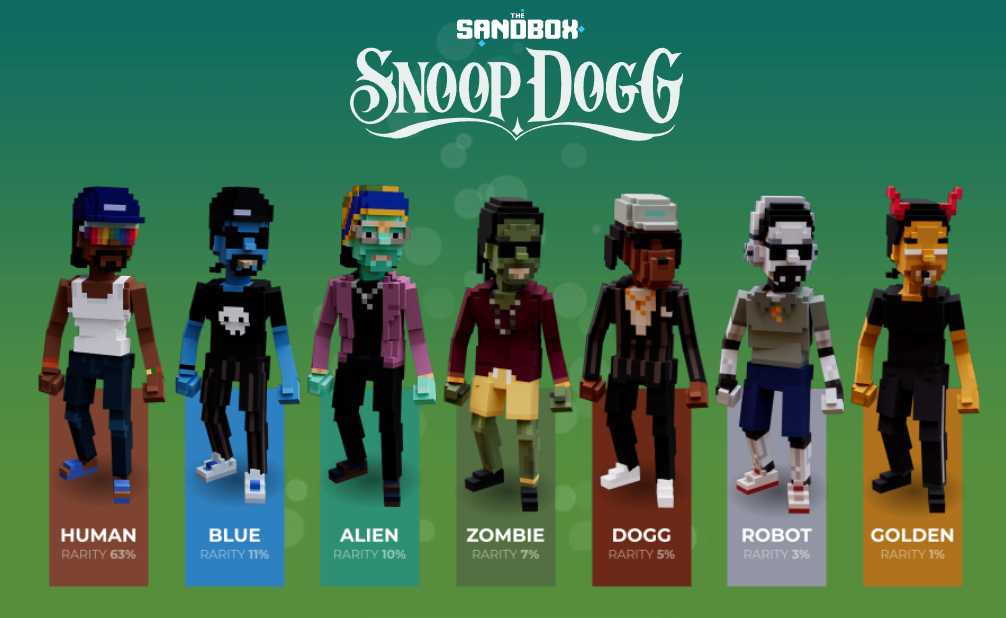 The Sandbox also collaborated with popular brands such as Atari, Smurfs, and Binance. NFTs from all these brands are available for sale at the Sandbox marketplace.
You can buy these NFTs directly from the Sandbox marketplace using SAND token.

Salient Features of the Sandbox Metaverse
✅ A popular and leading blockchain-based Metaverse
✅ Enable gamers and developers to create and monetize assets
✅ Interoperability of Game Assets
✅ Fair revenue share
✅ Secured by environment-friendly POS algorithm
Should you invest in The Sandbox Metaverse?
Metaverse is still in its infancy; however, it's growing much faster since Facebook adopted a new name, 'Meta.' The world's leading tech companies involved in Metaverse development and rushing to dominate this niche. The Sandbox metaverse is currently at #3 among all metaverse projects listed on Coinmarketcap. It's only behind ApeCoin and Decentraland.
The play-to-earn concept is expected to grow exponentially in the near future as the gaming community is transitioning from native Gaming to blockchain game that really pays for the time spent and enables players to monetize their content. Investment in the Sandbox metaverse can prove to be a great decision considering the future growth and expansion of The Sandbox Ecosystem and the rise of Play to Earn Gaming.
If you are still confuse about ' how to invest in the Sandbox metaverse' or if you should buy SAND token, please let us know in the comment section.
Disclaimer: Information provided in this article should not be taken as financial advise under any circumstances. Do conduct your own due diligence and consult your financial advisor before making any investment decisions.