#1 Metaverse with a Unique Theme
Metaverse, along with web 3.0, is currently the hottest topic. And Bloktopia attempts to revolutionize the metaverse with its unique theme. Bloktopia is a decentralized metaverse built on Polygon, a Layer-2 scaling solution of Ethereum. BLOK is the native utility token users can utilize to transact within its ecosystem.
Bloktopia is creating a virtual skyscraper with 21 floors or levels. These immersive skyscrapers are the core of this project. It is built to offer immersive content and the users' crypto education. Furthermore, this metaverse will allow two-way interaction, and all users can play games, build networks, own virtual real estate, and earn revenue.
Bloktopia is one of its kind to build an immersive virtual skyscraper with many options to engage, explore and use creativity to expand it further.
Considering the pros of this project, it is still not as hyped as it deserves. It currently stays at 26th number in the ranking of Metaverse-themed projects and number 325 in the ranking of cryptocurrency by total market cap.
After the social media giant Facebook changed its name to Meta to stay ahead, Metaverse projects have picked traction, and Bloktopia has the potential to be a big name in the Metaverse space.
#2 An Undervalued Gem
While the Bloktopia has many reasons to be at the top of the Metaverse spectrum, the entire market cap remains $155 million. As metaverse is picking up the pace with total market cap of the metaverse-themed project reaches $24 billion.
With its ongoing partnerships and the requirement of BLOK to acquire any apartment inside Bloktopia Metaverse, the token price, along with its market cap, is expected to rise quickly.
Bloktopia's market cap is highly undervalued, and a momentum is around the corner.
#3 Bullish technicals
BLOK is down by 92% from its all-time high price as per Coinmarketcap data at the time of writing. While the Bitcoin price crash impacted the entire crypto market, the Metaverse coins have gained a reasonable price since the massive decline. However, the BLOK price has not witnessed any surge after it touched the record low of $0.012. BLOK is on a continued decline since it touched the all-time high of $0.17 on 31st October 2021.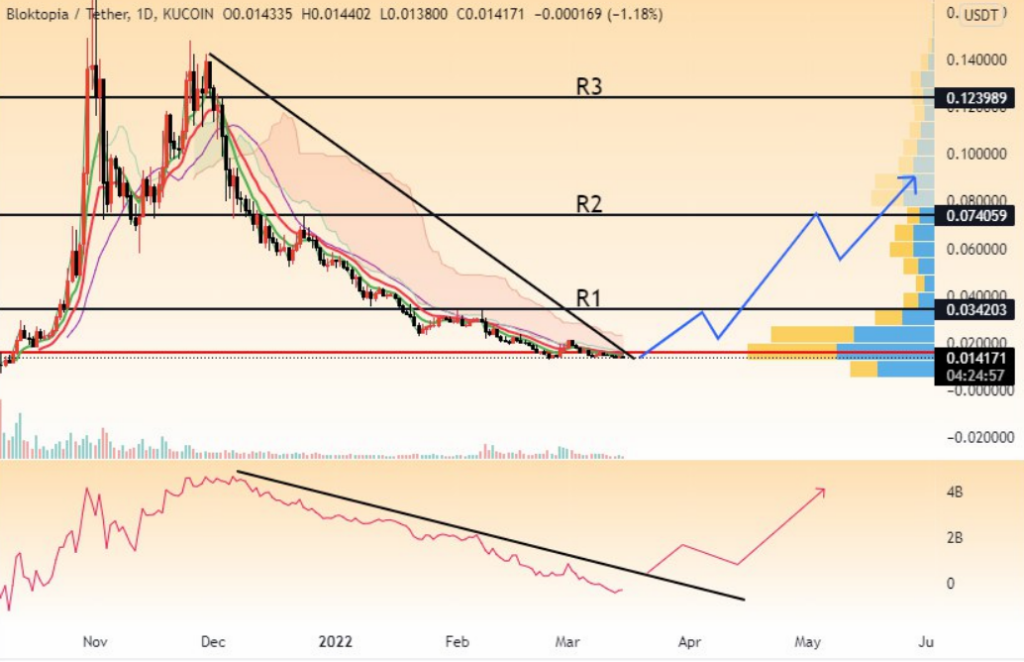 Currently, technical parameters paint an extremely bullish picture for BLOK, as the price has been going through the accumulation zone for a long time. The RSI is also going through an oversold region and indicates a boom in the near future.
#4 Strong Fundamental
Bloktopia has the edge over other Metaversaes. Bloktopia (BLOK) is building the Skycrapper themed Metaverse with Epic Games Unreal Engine 5 to bring realistic graphics.
Along with its unique 21 story skyscraper, Bloktopia's true focus is on the quality, experience, and impressiveness of its metaverse.
Its ultra-realistic graphics outshine the rivals and make it one of the Metaverses which can take virtual reality to its peak.
Bloktopia is divided into LAND, representing an apartment on different stories in the Bloktopia metaverse. These virtual apartments can only be purchased using the BLOK token.
Many major firms, such as Coinmarketcap and Kucoin, have acquired virtual real estate in Bloktopia. And many firms are lined up to acquire an apartment in the Bloktopia skyscraper in its upcoming LAND sale.
#5 Future Collaborations
Bloktopia is expected to be a buzzing metaverse soon as many collaborations with major firms are lined up in the future. Companies can have many benefits of acquiring a LAND inside Bloktopia skyscraper. Along with advertisement, they can showcase their project or services and give users a first-hand experience and reason to buy.
Bloktopia is currently a sleeping giant. From a technical perspective to fundamentals, Bloktopia has all the reasons to be a leader in blockchain-based metaverses. And now is the earliest time to acquire some BLOK token and jump on the Boktopia bandwagon to the moon.
Disclaimer: Information provided in this article should not be taken as financial advise under any circumstances.Do conduct your own due diligence and consult your financial advisor before making any investment decisions.