Privacy based decentralized exchanges have been growing and captured a significant share of all crypto exchanges. dYdX is one such decentralized exchange with many advanced features which is not yet available on other rival platforms. Founded back in 2017, this layer-2 non-custodial decentralized crypto derivatives exchange has gained many users recently. Consequently, there is significant on-chain activity has been noticed.DYDX's enormous on-chain growth could lead to a Major Breakout
As per blockchain analytics firm, Santiment, the governance token of this decentralized exchange, DYDX, indicates a massive build-up behind the scene. The on-chain report from Santiment shows an enormous increase in the active address of DYDX. Also, the report shows an 'astonishing Network Growth' for DYDX. The firms 'DAA Anomalies' screener noted an abnormal growth in the active address that probably hints at a Bullish Divergence.


The report concludes that the DYDX price is potentially in a strong uptrend, and the technical analysis of this native token align and detects a somewhat similar pattern in its price. DYDX has been consolidating since it touched the all-time high price of $27.78 six months ago. The price was not able to break the crucial resistance of $6 in the last month. However, the recent on-chain growth combined with new developments has pushed the price across this key resistance.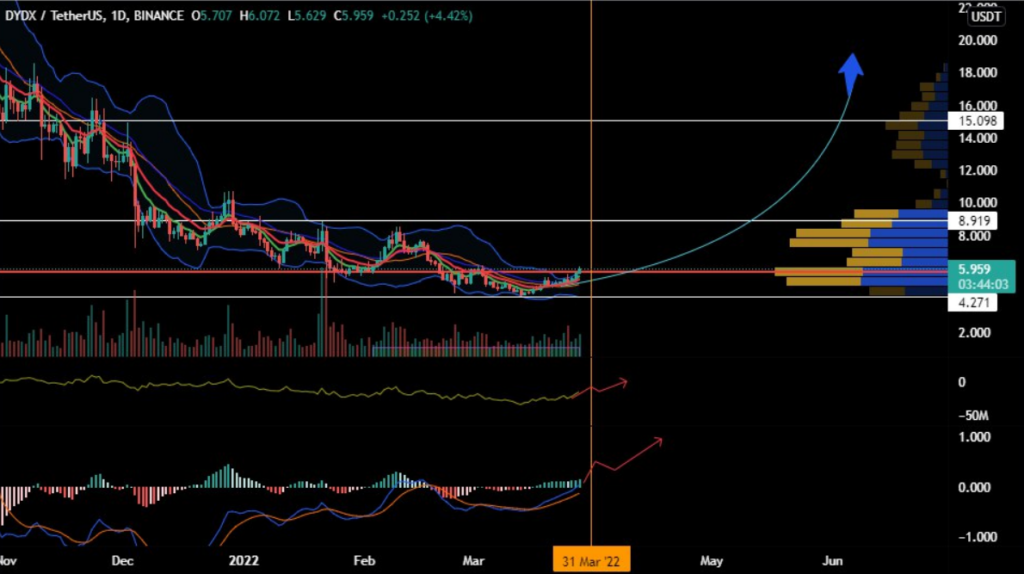 Furthermore, as per Coinmarketcap, the trading volume of this token has surged up to 64% in the last 24 hours. The sudden spike in volume suggests increased interest of traders in this token along with a positive sentiment and optimism about the upcoming rally.
DYDX is currently facing strong local resistance at $6. At the press time, this token is trading above this level. If the price holds above in the 1-day chart, there is a higher probability of a surge in price up to $8.9 by this weekend.
DYDX has strong fundamentals, and the technical parameters also suggest a long-awaited uptrend. The rally in Bitcoin price has pushed the entire market upward, and most altcoins have already rallied up to 30% in the past few days. DYDX price could attempt to hit $15.098 in the long term. $8.919 is the short term target of this token.
---
CoinFea Explainer
What is DYDX?
DYDX is a native token of decentralized exchange dYdX.
What is a decentralized exchange?
Decentralized exchanges are non-custodial platforms where users can transact without any mediator. Decentralized exchange direct connects buyers to sellers, and users trade without depositing the fund to exchange wallets.