The entire crypto market has been going through a severe downfall for the past few weeks. The top cryptocurrency by total market cap, Bitcoin has fallen to the lowest price level since December 2020. However, BTC's price has bounced back after hitting $26,700 at Binance and successfully entering the $30,000 price range. With the pump in BTC price, the entire crypto market breaks into a rally, and top cryptocurrencies have registered more than 10% gains in the last 24 hours.
The top gainers are SOL with 13%, ADA with 10%, AVAX with 15%, and ETH with 4%. Other leading cryptocurrencies also witnessed a decent gain in price over the past 24 hours. This is one of the significant moments when the entire crypto has been moved upward significantly and managing a bullish sentiment since the crypto market flash crash amid Terra's fiasco.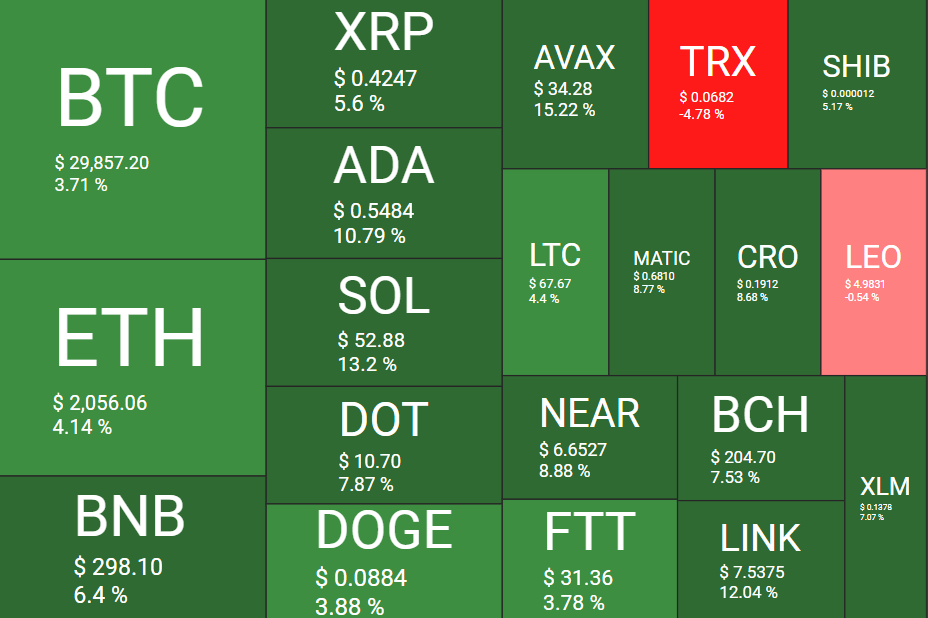 Top Driving Factors
While several factors dragged the crypto market to the lowest level, Terra's failure was prominent. Do known, the founder of Terraform labs, the company behind Terra blockchain, has finally come up with an explanation and course of action to keep the terra ecosystem alive.
Do Known, the creator of TerraUSD, a stablecoin that maintains its stability with the help of algorithmic configurations instead of traditional collateral, takes his Twitter account to instill hope in the Terra community. The LUNA investors have been devastated by the massive loss, as the market cap of LUNA has shrunk from $40 billion to a few hundred million. In a series of tweets, he explained the action being taken to revive the falling Terra blockchain. Chengpeng Zhao, popularly known as CZ, has joined the conversation and shared his insights on LUNA failure, its possible recovery, and tips on avoiding such a scenario in the future.
It positively impacted the crypto market and helped in gaining significant upward momentum.
The microblogging site Twitter founder Jack Dorsey has shared his vision on Bitcoin. In a question seeking his response on the falling crypto market, Dorsey has explained that he does not prefer to keep track of Bitcoin price. Instead, he believes in its long-term value, and he asserted he believes that Bitcoin will raise and gain value once more people are able to use it.
Moreover, Micheal Slayer, CEO of MicroStrategy and an avid believer of Bitcoin, has continued to show an unwavering conviction in the top cryptocurrency and continues accumulating it in the bearish market.
The total market cap of cryptocurrencies is also able to push above $1.3 trillion after hitting the lowest of $1.08 trillion.