After touching the bottom of $42,000 in a flash crash over the threat of Omnicron variant of coronavirus. Bitcoin managed to pick the pace from the start of the week and reached $51,956 within a couple of days. However, analysts are making speculation over a much-awaited bill by the government of India to regulate cryptocurrency, and there is a probability of a complete ban of private cryptocurrency in India.
As per a report by Bloomberg India, India is looking at appointing its capital markets regulator to monitor cryptocurrency. As per experts, the authorities consider whether at defining digital currencies as financial instruments. Indian PM Narendra Modi will adopt legislation during the current session of parliament, is likely to offer crypto users an opportunity to report their assets and comply with any new regulations.
India is one of the leading countries in terms of daily trading volume on exchanges. The news of a complete ban has created a frenzy in the market with heavy sell-off noticed at exchanges. The fear and greed index touched the historic low of 16, however, it was recovered in a day and currently sitting at 25. Currently, BTC is trading around $50,000 with most of the coins being green.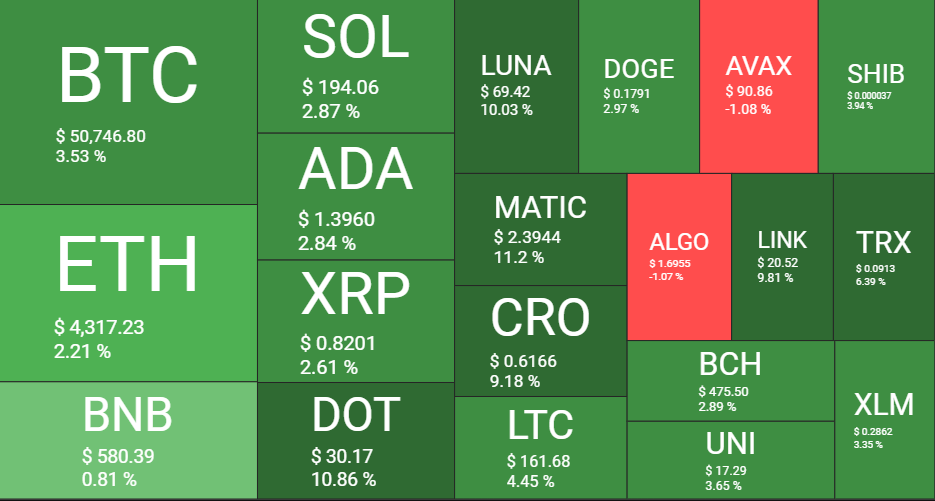 The penalty for not complying with the Indian cryptocurrency policies of the government could be a penalty of up to 20 crore rupees ($2.7 million) or 1.5 years in prison. The government may provide cryptocurrency investors with the deadline to comply with new regulations. Furthermore, as per the new rules, entities involved in dealing with digital currencies need to be operated under the Indian financial security organization, SEBI.
Although there is no official confirmation from the Government of India, the bill is expected to bring the crypto firms in oversight of the Central government and create a unified rule. Some experts foresee this bill as positive news for crypto enthusiasts as it will facilitate the crypto firms to mainstream and work like any other company in the country.