The crypto world has been shaken to its core after the top cryptocurrency, Bitcoin has broken the last support of $19,000 and entered into the red zone of $18,000. BTC has last entered and broke through this range in December 2020. While the crypto experts are still speculating the next support area for Bitcoin, top crypto critic and Gold maximalist Peter Schiff has indicated a crucial price zone.

The founder of SchiffGold has been famous for his critical stances on Bitcoin. Lately, he has tweeted about the next support that bitcoin may decline to after being unable to sustain the $19K price zone. According to Schiff, after losing $20K, the all-time high of 2017, the current acting support of BTC is gone. Moreover, no viable support is left where the Bitcoin price could stabilize. He further concludes that the next support is around $6K.
The cryptocurrency market has lost almost $2.2 trillion from its all-time high of $3 trillion. While the global equity market has been gradually moving upward, the crypto market continues to plummet. Most of the experts had assumed $19K as a final support line of Bitcoin, from which a bounce was imperative. However, in the unprecedented crash, BTC has broken through $18.5K and declined further.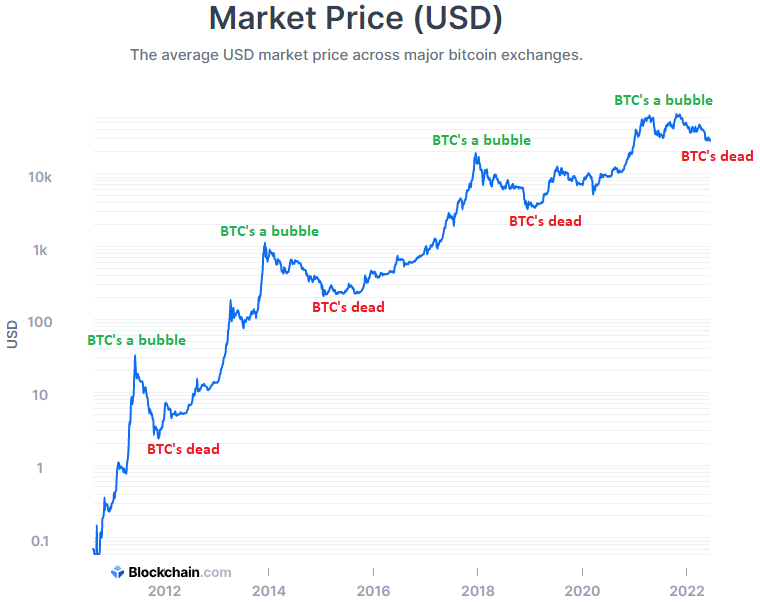 Despite the overwhelming decline, the crypto leaders are pretty positive about the recovery of Bitcoin. According to the above chart, Bitcoin has entered the historical zone where most people left the hope. Nevertheless, it has bounced back hard from these critical zones and almost touched its all-time high price.
Cryptocurrency exchange Binance CEO, CZ, has claimed that Bitcoin is in the 2nd year of a bearish cycle. Furthermore, he shared BTC prices from the past to validate his claim that the current slump is just a part of the cycle. At the press time, BTC is trading at $18,243 on the Binance exchange in USDT pair.