Unifi protocol is one of the unique blockchain protocols that is working solely with the goal of driving crypto adoption across the globe through building a sustainable blockchain economy. The project has many elements that put it at the forefront of the global blockchain revolution and it could play a vital role in connecting different blockchains with each other seamlessly and without risking their security. Unifi's wrapperless cross-chain bridge can help connect the existing economy of Ethereum-based DeFi applications to the rapidly growing ecosystem of DeFi products built on other blockchains.
UNFI is the native governance token of the Unifi Protocol that enables holders to vote on the proposals or put forward any changes that they want to see in the Unifi protocol. Since the remarkable rebound in Bitcoin price has resulted in a mini alt season with most of the Altcoins having managed a weekly growth of up to 3 digits. However, UNFI has not witnessed such a rally so far, and now could be the right time to take entry before it skyrockets. Here are the technical and fundamental aspects of UNFI that hint at an upcoming surge in its price.
UNFI Technical Analysis
UNFI with a market cap of just around $30 million is a blue-chip gem that has not picked up massive traction yet. Although many other DAO coins have experienced significant upswings, UNFI is still building momentum. The 1-day chart of UNFI clearly shows an upward breakout from the ranging zone of $3 to $4. The price of UNFI was trading in this area for the past 2 months, and the recent positive movement in the crypto market drove it to its local high of $6, a 20% gain.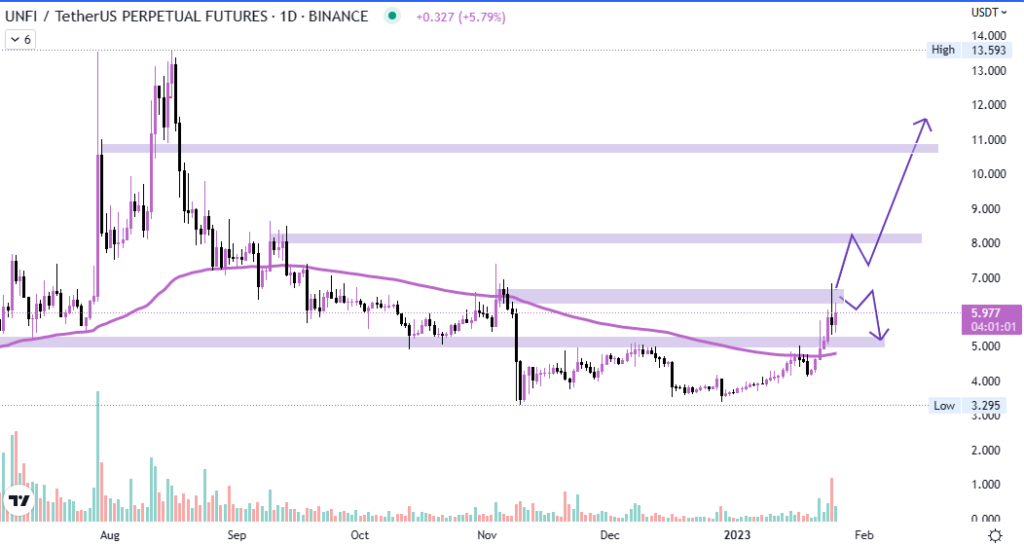 Additionally, the UNFI price has broken over the 100 days EMA for the first time since September 2022, which is an indication of a bullish move to come. In short term, the price may see a retracement towards the $5 zone, and consolidate for a week. It would be a good time to keep an eye on this price zone and take entry once the price bounce from this support level.
The short-term target for UNFI is $8.2 which is around 52% of its current trading zone. After a brief accumulation period in the $7 – $8 price zone, the price could move further. And in a couple of months, the price can easily hit the next resistance of $10.8.
UNFI trading volume is also gradually swelling up which is an extremely significant contributor to an upward price movement.
The fundamentals of UNFI are also strong, along with bullish technicals. With the Unifi protocol, the team is working on innovative solutions to bridge the gap between blockchains and break down their isolation. The project is still in its very early stages, and it has the potential to grow exponentially.