Internet of things or IoT is the next being thing in wireless technology. With a spike in users' adoption of IoT devices as internet accessibility grows at a cheaper rate, the adoption of equipment embedded in sensors and software also expands exponentially. Helium is revolutionizing this futuristic technology that is yet to bloom with its full potential. Helium is a public blockchain-based project for IoT devices.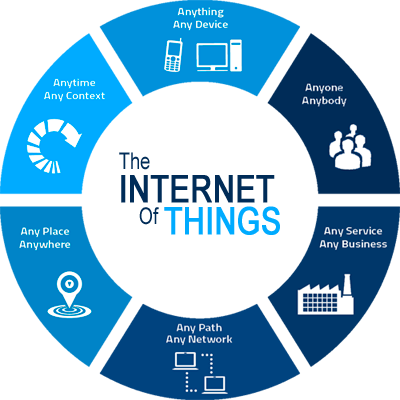 As per Oracle, IoT market can witness a massive growth in next few years. The global market can grow to estimated $22 billion in 2025.
HNT price Forecast 2022: Technical Analysis
Helium has gained traction with a multifold increase in its native coin HNT price lately. Rasing from $1 on 1st January 2021 to $59 on 8th November 2021, HNT has registered a tremendous growth of nearly 38,000% within mere 10 months. The price is declined along with the entire crypto market plunge. However, the HNT price is still staying at $21.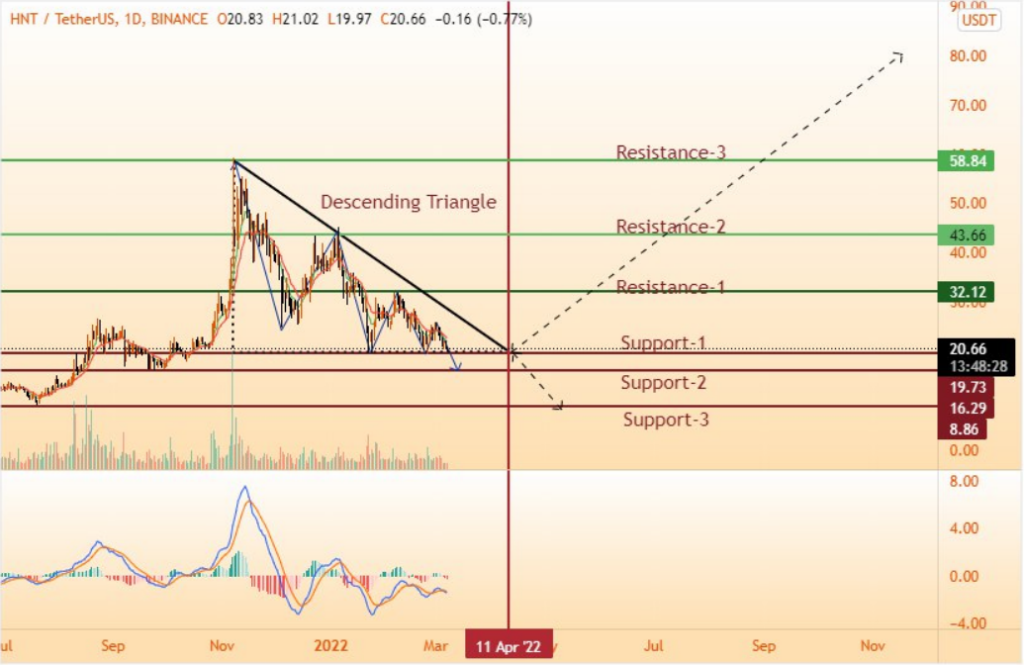 The technical parameters look promising for HNT. Currently, it is staying at major support of $20, which is not yet breached since November 2021. The current crypto market sentiment and historical movement indicate a further decline towards $19 before bouncing back to $32 in the next couple of months.
These estimates are tentative, and as per the current market situation, if Bitcoin changes the course, the next milestone of $32 could be achieved within a month. The rest of the targets are marked in the above graph.
Considering the current uncertainties and panic caused due to Russia's Invasion of Ukraine, the crypto market is unstable. However, HNT fundamental looks pretty strong and can help drive the price upwards.
HNT Fundamental analysis
With a goal to revolutionize the Internet of Things market, Helium is working on a futuristic technology driven by decentralized blockchain. Although few competitors in the blockchain space work in a similar field, Helium has something unique that makes it stand apart.
With a vision to develop long-range wireless technology based on blockchain technology, Helium solves the major connection issue of Internet of Things devices. Additionally, the entire network is decentralized, which means no central entity controls it, but the community makes it secure and keep it running.
Helium usages a unique consensus mechanism called Proof of coverage to encourage users to contribute to the network by rewarding HNT. Furthermore, Helium is creating a massive interlinked chain of wireless devices across the globe to solve the communication issues in IoT devices.
Helium has raised $200 million of funding from multiple investors in its series D round. According to Theblockcrypto, Helium blockchain has gained over 0.5 million users within 2 years of its launch. Its wireless network is already spread in many major cities across with world.
Considering the strong fundamentals, Helium (HNT) has the potential to reach the top in the spectrum of IoT-based cryptocurrencies.
CoinFea Explainer
What is IoT?
Internet of things or IoT is a network of physical equipment interconnected wirelessly with the help of sensors and software.
Does Helium mining have a future?
Helium relies on miners to keep its network secure and working; Helium mining has a great future with increased demand in the next couple of years.
What could HNT be worth?
Just a year ago, 1 HNT was equal to $1, and within 12 hours, the price has grown multifold, touching a high of $59. HNT could be worth more in the near future, considering its rapid growth.