A Brazilian-oriented newspaper O Globo has recently published that Binance, one of the topmost crypto assets in terms of popularity, has appointed Henrique Meirelles, the ex-Central Bank President of Brazil, as a part of its advisory department.
The report says: "Binance confirms the participation of Henrique Meirelles in the company's new global advisory board" and claims that it will publish further information about this latest development soon.
A 'digital asset' related Twitter handle @BTC_Archive uploaded a tweet on its account giving more details about this initiative. The followers reacted positively to this info as sensed by the comment section below the tweet uploaded on Twitter by this account.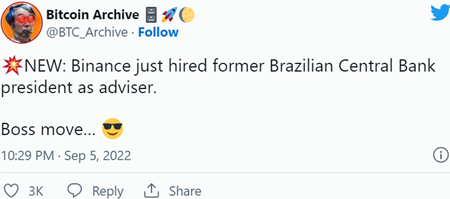 By appointing a high-standard government personality as one of the firm's advisors, Binance seems to be considering the agency's legal status as 'pretty serious', even sticking to the regulations decided by the international authorities. The hiring confirms the fact that the agency is well-versed with both public and legal audits and has decided to utilize them in its favor.
Read related article: Binance acquires License to conduct business in Dubai
The political background of Meirelles is quite noteworthy. He was appointed under President Luiz Inacio Lula da Silva as the President of Brazil's Central Bank from 2003 to 2011. Then, for 2 years from 2016 to 2018, he was employed as the nation's finance minister. The involvement of such a public figure on Binance's advisory board can be taken as the nation's strategy to introduce laws for the crypto asset sector.
Followed by the news, Binance is also planning to connect with Nigeria to build a crypto-friendly, completely authorized, digital city. Lately, the US has asked Binance to shed some light on the information related to the firm's anti-money laundering policies, which was met by a positive response by CEO Changpeng Zhao. Zhao even posted a tweet that he had willingly given the asked information in a "semi-public" manner.