Bitcoin price has finally pushed back to the $24K price range after more than a month of a dreadful downturn. The top cryptocurrency price has witnessed a massive surge after the Federal Reserve announced an interest rate hike at 75 BPS. Despite the continued rise in inflation, the announcement strangely impacted the entire crypto market positively. Bitcoin was trading in the $20K range for nearly a month after hitting the yearly lowest price of $17,622, according to Coinmarketcap.
From a technical perspective, Bitcoin has successfully come out of the danger zone and is currently forming an ascending triangle in 1 day. The price is bouncing back to hit a new high from the previous lower support. Moreover, BTC has also crossed the 50-day moving average and sustained above it, which explicitly reveals a trend reversal in the longer time frame. While some crypto experts are still speculative over this spike in price as a fake out or confirmation that bulls have taken over, the 1-day chart indicates a clear upswing in BTC price with considerable momentum.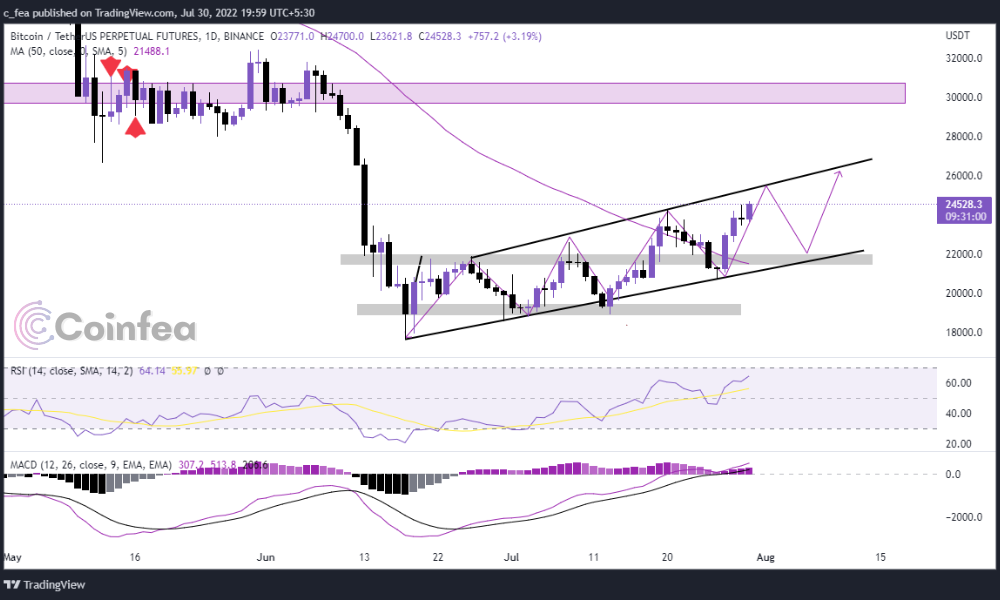 Leading Momentum Indicators RSI and MACD further supports the claims of a trend reversal. RSI is moving forward to the bullish zone, while MACD has managed to cross over to green areas after a few weeks.
200-Week Moving Averages
200 Week Moving Averages is one of the most popular indicators used in identifying the Bitcoin cycle and overall pattern in larger time frames. Bitcoin price has crossed the 200WMA for the first time, which was interpreted as the bottom of the current bearish cycle.

BTC has successfully flipped from this bottom-out zone after the current upward movement. The price has moved from the danger zone marked below the 200WMA line to trading above it. Historically, a bull run follows whenever the price has touched the 200WMA blue line. Although Bitcoin price has breakout into a mild rally, a long sustaining bull run is awaited.
Along with technical parameters, BTC fundamentals are also transitioned to the green zone to push the price further upward. The Crypto greed and fear index, a popular indicator that shows the overall sentiment of the crypto market, has hit a 3 month high of 42. The crypto market that has been through an extreme fear zone for the longest period of time in Bitcoin history has finally climbed to fear and is about to flip to Neutral. The total crypto market cap has also reclaimed the $1 trillion mark after diving below $800 million. A long-awaited positive sentiment has swept over the crypto market and boosted the confidence of long-term investors. The continuous risers in price over the critical levels affirm that Bitcoin demand is gradually increasing.