What is the Proof of Work Concept?
Proof of work is a system created by Satoshi Nakamoto to prevent spamming on the Bitcoin network. It is a security measure that requires miners to prove their work before being rewarded. Proof of work is the underlaying mechanism used by the largest cryptocurrency Bitcoin to reach to the distributed consensus.
This is done by creating a block of transactions and adding it to the blockchain. The data in this block needs to be challenging enough for the miner to solve but easy enough to verify. This way, they can show that they did some work and are not just trying to get rewards without actually doing anything.
Proof of Work is a protocol used to verify transactions on a blockchain. Satoshi Nakamoto introduced it in 2008 as a response to the problem of double-spending.
In the Proof of Work protocol, miners use their computing power to solve complex mathematical problems. The first miner who solves the problem gets rewarded with a certain number of bitcoins, and everyone who tries but fails is rewarded with some bitcoins.
The Proof of Work protocol has been criticized because it requires enormous energy and computing power, making it expensive and slowing down transaction speeds.
Below are essential concepts involved in the proof of work consensus mechanism.

Cryptographic Hash Function
Cryptographic hash functions are a type of function that maps data of arbitrary size to a bit string of a fixed size. The input data is called the message, and the output is called the message digest or sometimes just hash. The output cannot be feasibly tampered with without changing the input data.
Cryptographic hash functions are used in the bitcoin mining process to determine which transactions are valid and which ones need to be discarded.
Mining Pools
Mining pools are a group of miners that work together to solve a block. The reward is then split among the participants in the pool according to their contributions.
A mining pool is a group of miners who work together to solve blocks. The rewards are then split among the participants in the pool according to their contributions.
For these miners to share resources and split rewards, they need some kind of platform or system that allows them to do so. This platform is called a mining pool, and it can be either centralized or decentralized, depending on how it operates.
Why are Mining Pools Beneficial to Miners?
Mining pools are a group of miners who work together to find blocks. The rewards are then distributed between the members.
Mining pools provide several benefits for miners that choose to join one:
– Pooled mining reduces variance in income.
– They allow miners to get paid more frequently.
– They provide a sense of community and shared purpose.
– They allow for better hardware utilization, resulting in lower energy costs for the miner.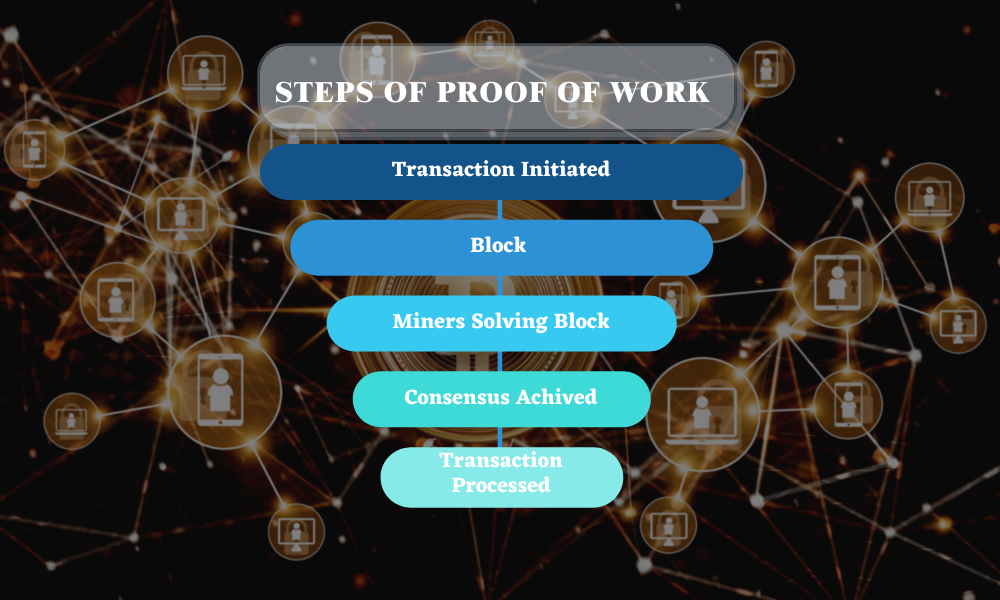 Advantages & Disadvantages of Proof of Work Mining
Proof-of-work mining is a protocol created to make the process of adding new blocks to the blockchain more difficult. Satoshi Nakamoto introduced it in 2008 with the release of Bitcoin.
Advantages:
It disincentivizes attacks on a crypto's blockchain by making verifying transactions expensive.
Proponents of proof of work contend it's more secure than other mechanisms like proof of stake.
Proof of work enables Bitcoin transactions to be confirmed and recorded without a central authority.
It incentivizes miners to mine and validates transactions on the blockchain. This helps maintain decentralization and prevents individual groups from controlling large amounts of hashing power.
Disadvantages
Proof of work is an energy-intensive process, which is why some people believe that this will be replaced by Proof-of-Stake mining in the future.
Solving a single block or cryptographic puzzle requires enormous energy, which leads to a debate on the future of this consensus mechanism.
Proof of work requires investment in expensive hardware components. Furthermore, it adds hardware depreciation or makes them outdated soon after an upgraded version of these tools is available.
Proof of Work Vs. Proof of Stake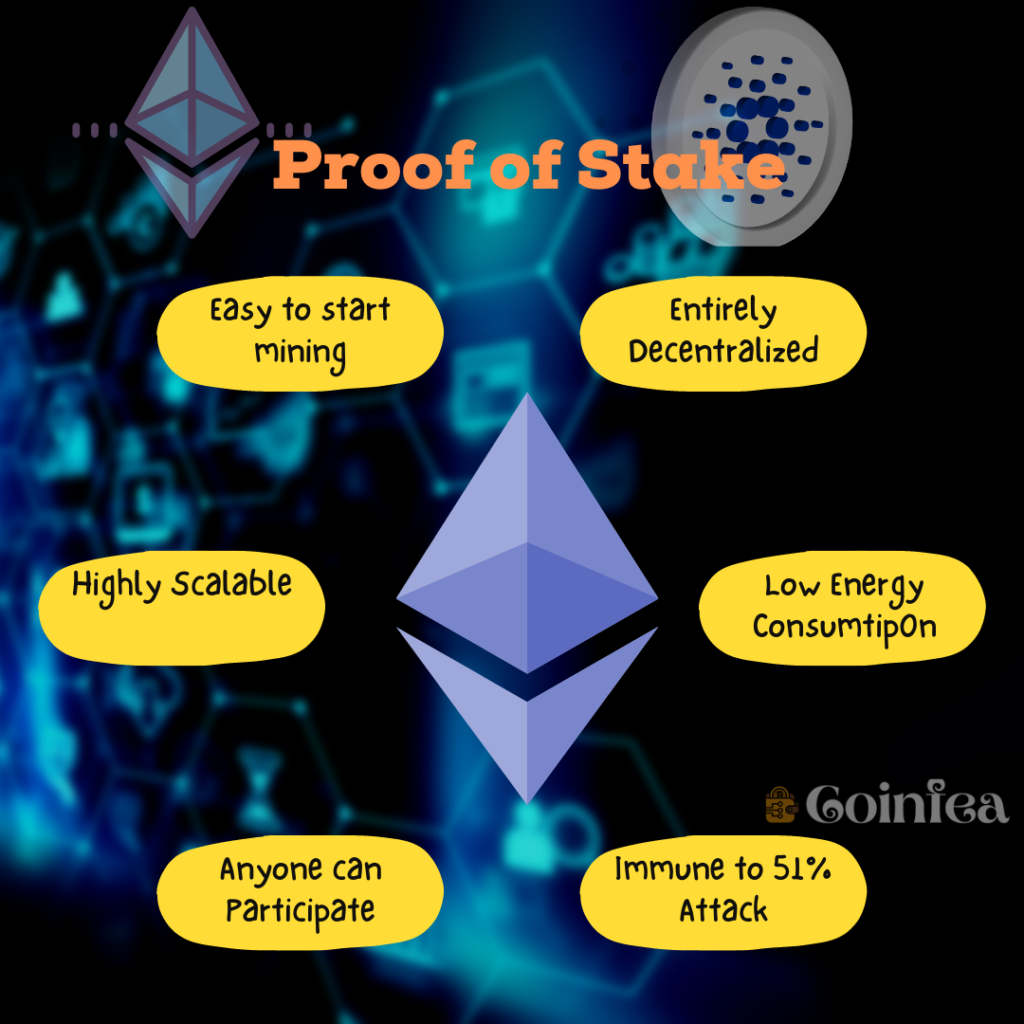 The proof of work (POW) mechanism is the earliest technology used reaching to a consensus in the blockchain. However, after criticism over its enormous energy wastage, the Proof of Stake(POS) mechanism has been evolved as an alternative to this oldest technology.
In contrast to POW, the POS mechanism does not require much energy to solve a cryptographic problem. Instead, it relies on individuals validating transactions based on the cryptocurrency they have staked. POS does not require extensive computational power, and hence it is much more eco-friendly than the POW system.
Although POS technology looks better than POW, it does come with some drawbacks. As POS prioritizes the individual having the largest stake a priority to validate the next block, there is a probability of improper validation with malicious intent.
Ethereum, the second-largest cryptocurrency after Bitcoin, has already announced and worked on switching from POW to POS mechanism, considering ongoing criticism over wastage of energy in the POW system.
The Future of Proof of Work Mechanism

Cryptocurrency mining is a process that is integral to the success of cryptocurrency. Proof-of-work mining is a system that has been used for many years, and it has proven to be a reliable method for solving the double-spending problem.
Since its inception back in 2009, the POW mechanism has garnered many accolades for making a system completely decentralized and preventing the double-spending problem. However, in the last few years, with growing demand for Bitcoin and huge investments by tech giants in Bitcoin mining has led to debate over the efficiency of this technology. Ethereum has already transitioned from POW to POS to comply and avoid energy wastage, but Bitcoin does not have any place to switch to the newer model in the future. The Bitcoin community does not want any alteration in the original codes.
Additionally, a recent report by Bitcoin Mining Suggests that by the end of 2021, nearly 46% of the Bitcoin mining activities have been utilized renewable energy. THe report further suggests, of siginifcan an increase in the numbers of mining rigs switching to renewable energy.
Also, the leading Microprocessor manufacturer Intel is working to develop an "energy-efficient bitcoin mining ASIC" chip. It will be a revolutionary step in the further development of POW technology.
In summary, it's safe to say the Proof of Work system is not going to be outdated anytime soon but continues to evolve in terms of more efficient hardwars and alternative energy.