As per a recent post by Charles Hoskinson on his Twitter account, he desires to inform all his followers that the outcomes of the news about the Cardano protocol being "catastrophically broken" is now at an altogether different level. "Fud-spreaders talking about the "ghost chain" again."
The IOG founder declared that this rumor is now being transmitted to huge masses of followers by digital media influencers.
To be more specific, he posted a tweet that presented a TikTok video with a man who has more than 600k followers claiming in the video that people have started losing their trust in the Cardano blockchain.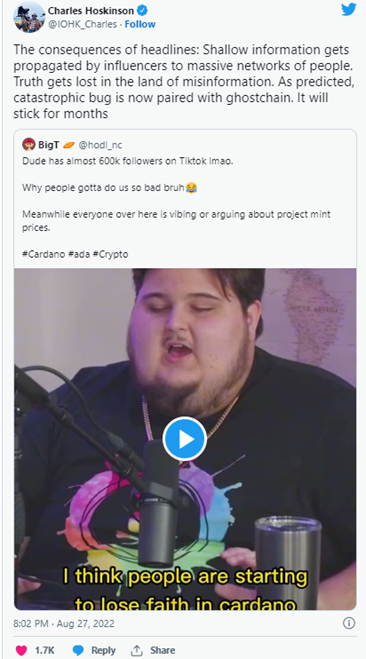 The guy demands that "for a project that has a market cap as high as it has, Cardano does not have much to show for it." He also highlights the fact that the goal behind the working of the Cardano association is amazing but they are not progressing in any way.
Further, he appealed that Solana is a "much more functional blockchain and a much more functional platform than Cardano has ever even gotten close to being."
Hoskinson was disappointed while tweeting that influencers are spreading misleading info to "massive networks of people" about Cardano and again pairing it with "ghost chain."
Hoskinson declared that such "30 seconds of lies" were uploaded with the motive of engagement farming. He also made his point by reminding some of the Cardano achievements attained by the firm in 2022 via tweet.