Highstreet is one of the blockchain-based metaverse projects that flaunt its uniqueness. Built exclusively to raise bars in ways people shop in the metaverse. With a brand new concept of connecting shoppers with verified brands, Highstreet metaverse attempts to revolutionize the user's shopping experience. Recently, Highstreet launched the sale of different types of homes in its metaverse under the banner of 'Initial Home Offering' in short IHO with Binance NFT market.
The launch of IHO has seen a massive influx of users with a trading volume of $9 million on Binance NFT Marketplace.
Much Awaited 'Move-in Day'
Users who were bought a home during the IHO sale are excited to move into their home and explore the city.
As per the official statement, a massive number of homes were sold in this initial home offering. In this sale, the homes were sold in The Solarium, a price location in Highstreet City. This part of the city features homes ranging from Luxury suites to Studios among many others. These homes could be used for rest, showcase items, and also earn passive income once the economic activities grow in Highstreet city.
Highstreet city is all set to announce the moving instructions to buyers who secured a home in the Solarium city. Homeowners would be able to check out their homes and participate in this buzzing economy. Highstreet will release the detailed check-out information on 31st March, 'Move-in Day'.
This announcement is expected to give rise to its native token HIGH. Although a significant number of homes have been sold out already, there are still a bunch of homes available in the Solarium city, and the sale is on. Users are lining up to get a space in this part of the high street metaverse before the sale ends.
Along with the impending Move-in day, the volume of the HIGH token is already swelling up across the exchanges.
Bullish Technicals
HIGH token was launched back in October 2021 in an IDO at a price of $1 per HIGH. The price caught pace, but it skyrocketed in October ahead of the Highstreet alpha test and touched an all-time high of $40.26. The price went down gradually and is currently traded at $5, down by 85% from its ATH.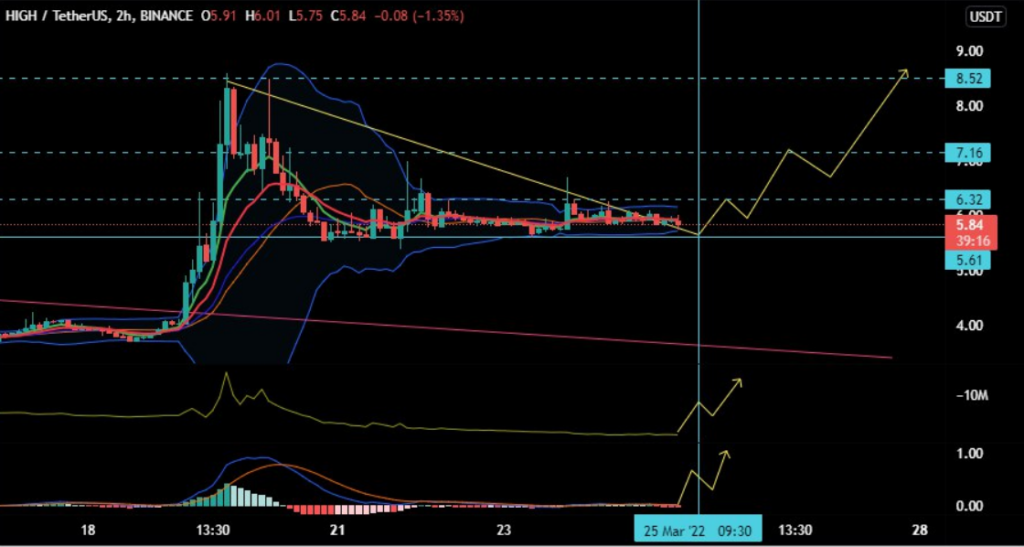 The technicals of this token suggest a strong bounce from the current price level. HIGH price is consolidating around $4-$5 for the past few weeks. In short term, the price is all set to break the current ranging market and move towards the local resistance of $8.
As the Move-in Day is getting closer, an increased volume is visible in all pairs of HIGH and the increased buying activity combined with the impending breakout could take HIGH price to a local high.
---
CoinFea Explainers
What is Highstreet's Initial Home Offering (IHO)?
Highstreet is selling different types of luxury homes in its Solarium part of the Highstreet city at Binance NFT Marketplace under the banner of Initial Home Offering (IHO).
When HIGH token will reach $10?
Highstreet metaverse's native token HIGH is currently being traded at $5. HIGH has the potential to reach $10 in short term and $25 in the next few months.