Changpeng Zhao, the CEO of the topmost crypto and digital assets firm Binance, appreciated MicroStrategy as he recently uploaded a tweet about them investing in more Bitcoin.
Business intelligence firm, MicroStrategy Executive Chairman Micheal Saylor declared that his firm had bought 301 BTC for about $6 million, each reaching nearly $19,851. Sparing 130,000 BTC as an asset stockpile, the agency has therefore turned out to be the only public firm to hold such a large number of Bitcoin (BTC).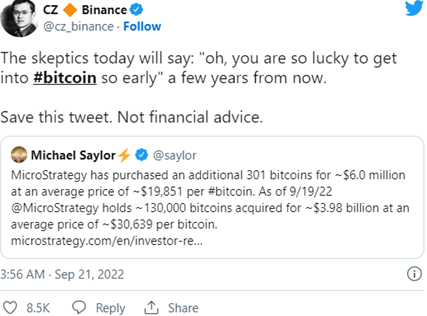 US Securities and Exchange Commission (SEC) filing has also stamped the fact that the investment was done between August 2 and September 19 this year.
Galaxy Digital Holdings follows MicroStrategy being termed as the second publicly listed firm to own a huge number of Bitcoin . According to the info provided by their balance sheet, the firm presently holds 40,000 BTC.
In the private sector, Mt Gox too owns a huge number of BTC, which can reach to an approx. of about 141,686 Bitcoin. Although, since the firm Mt Gox is currently facing bankruptcy trial, the trustees will allegedly divide their crypto to investors.
Apart from this, another private firm holding the highest number of BTC is Block.one. Bitcoin Treasury data shows that Block.one presently owns about 140,000 Bitcoin.
The crypto bearish season has become the perfect timing for traders to buy digital assets. In the recent 1 month, the globe's topmost crypto asset, Bitcoin, has gone down by 10% and dropped to 60%.
Regardless of the fact that increase in inflation and interest rates threaten the crypto industry, firms such as Binance Labs is also searching out ways to invest in early-stage web3.0 project that will bring out high-value returns in the upcoming time.